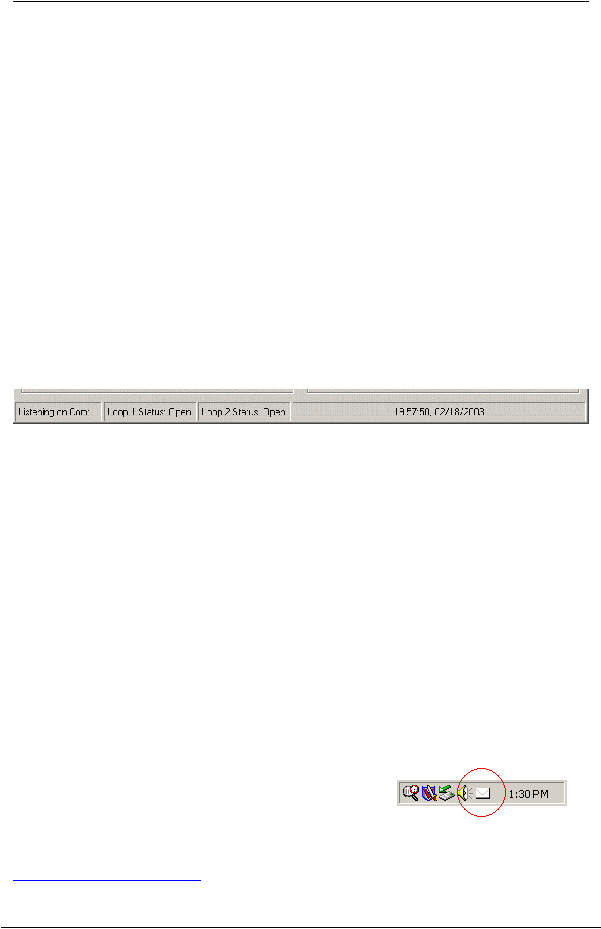 SMTP Message Test/ Display Feature
Ensuring SMTP Server connectivity and message transfer is essential to the system setup, so the
Serial Switch-SMTP

™

software includes a SMTP message Test and Transaction Display. Once
you have configured the SMTP server, user account, password, recipients and message text –
you are free to use the Test/Display to test Open and Close messages. You will see the complete
SMTP session authentication and transfer. This can be very helpful when debugging mail
Serial Switch - SMTP

™

Status Bar
At the bottom on the main configuration/display screen, you will notice a Serial Port status bar.
This is designed to display the current state of each switch, as well as the PC Date and Time.
When setup is completed, and SMTP tests verified, select File/Save to store the configuration.
To hide the application from view, select Options/Hide.
The application will now show as running in the Windows taskbar.
For further assistance, you can contact your Serial Switch-SMTP

™

dealer or contact us at
support@SimpleComTools.com

.