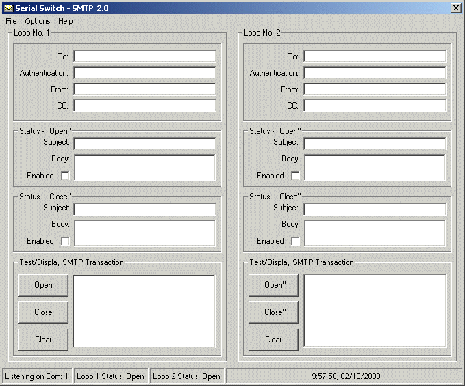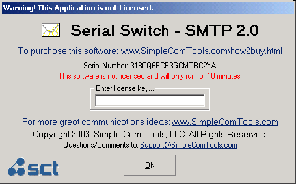 Install Serial Switch-SMTP

™

by downloading and unzipping the install package.
Accept the License Agreement
Select the Destination Folder where the software will be installed
The installer will complete the installation and automatically open the destination folder
Begin setup by double-clicking the "Serial
Switch-SMTP" icon. If you see this red
highlighted alert screen, your version of
software is unlicensed. An unlicensed version
will only run for a period of 10 minutes before
Select OK and the software will open to the
main screen/desktop. This is the only screen or
window you will be using.
The main screen is where most of the setup takes place. The hardware switches installed are
referred to as Loops No.1 & 2. While each Loop (switch) can have it's own email message and
recipient list, only one SMTP server and user login can be used. (See the SMTP setup for more).