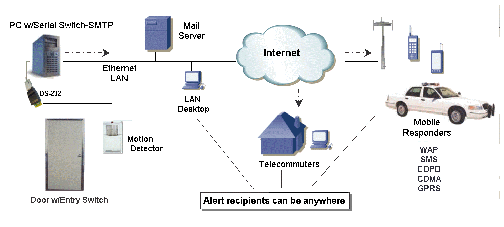 Serial Switch-SMTP

™

is a combined hardware and software solution that provides email
notification of security or operational related events. It is a complete solution designed to detect a
change in the state of a switch or relay wired to an RS-232 port of a Microsoft Windows PC, and
then send a pre-defined email alert message to any Internet email address.
Serial Switch-SMTP

™

is perfect for anyone who needs information on changes in the state of a
contact closure sent directly to support personnel via email, cellphone, or pager. This makes
Serial Switch-SMTP

™

applicable in wide number of areas, including security/access control
applications, intelligent vending, robotics, data acquisition, Telemetry, or other similar solutions.
Alarms, sirens, and security monitoring services triggered by false alarms can be frustrating and
costly to manage. Serial Switch-SMTP

™

makes the notification of these important events far
more 'low-key'. No sirens, no bells, and no phone dialers calling monitoring services or police.
You control and track the event – and you control and track the response.
Serial Switch-SMTP

™

is perfect for managers who need the oversight, but don't want to ask
everyone involved in the alarm process to keep them up to speed. Now all they have to do is
check their own personal email and they know exactly when and where events took place.
Serial Switch-SMTP

™

can provide immediate notification for an almost any type of application:
Construction Site Security
Access or Perimeter Control
Remote Equipment Operations
LAN/Intranet Applications
Serial Switch-SMTP

™

works on any Ethernet, Wireless LAN (802.11x), or TCP/IP network.
Serial Switch-SMTP

™

can be installed on any PC or server on the LAN, and the events can be
sent via email to any respondent located inside or outside the network. Alerts arrive on the LAN
desktop via regularly used email clients, such as Microsoft Outlook, Lotus, Netscape, etc. or be
sent to any person or device reachable via an email address including personal email services
(AOL, MSN, Yahoo, etc), Wireless PDAs, WAP or text message enabled cellphones and pagers.
WAN/Internet Applications
Serial Switch-SMTP

™

can also be used for remote device monitoring. The solution can just as
easily be installed on remote PC's that are be connected to wide-area networking services such
as cable or DSL, or even wireless WAN networks like CDPD, CDMA, or GPRS. This is useful for
remote site access control, gated area monitoring, stand-alone vending applications, etc.
Here is how Serial Switch-SMTP

™

might fit into your network scenario: